Colorful LED face mask
Witness the miracle of the future technology, with this mask, have more than 20 different benefits for skin and beauty LED face mask. Use it daily for at least two weeks then you can see a real difference in your facial skin. Your skin will look smooth, your pores will be smaller, your annoying zits will disappear, and wrinkles will improve. Simply get the feeling and look for your baby skin again. It needs eight weeks to complete course therapy, but you will see the difference after two weeks of using it. Start for five minutes per session then go up gradually to 20-30 minutes per session. You can go for 10 minutes red LED therapy and 10 minutes each for the other two. At the first day of use with using your favorite moisturizer, you need to moisturize if you need to use it more than 10 minutes per session or you need to start gradually five minutes per session then increasing daily timeframe until you reach your required session limit which is 20~30 minutes per day.
This led beauty mask is one of the most important homes must have facial tools, and this is a life-changing mask. If you are a teenager or older all, you need this LED mask for your facial beauty and your daily skin care therapy.
LED face mask benefits:
Powerful for wrinkle removal, zits, acne, and spots.
Greatly enhances face texture, skin tone, helps reduce fatty areas, tightens and also firms the facial skin.
Boosts blood circulation to bring a youthful face skin look.
Enhances natural collagen growth to improve skin elasticity. Inhibit the formation of melanin pigment.
1-count of LED Therapy Acne Face Mask to clean breakouts and to allow the skin to heal
Clinically proven LED face therapy. It harnesses blue LED face therapy to target acne-causing bacteria & red LED face therapy to reduce acne inflammation
This one-step LED face therapy acne treatment covers your face and is easy to use at home. After cleansing, put the mask.
Tip: Apply a couple of RF lotion on the metal buttons contacted area for better Microelectronics treatment. (By adding collagen lotion, or any other lotion will enhance lotion and LED face mask effectiveness and absorption)
Applicable for 16-60 years old
Clinically proven to be gentle enough for sensitive skin. 90% of subjects who've experienced irritation from topical acne treatments in the past agreed that this LED face mask therapy acne mask was gentle to their skin.
7 Colors LED face mask to solve unique skin problems:
Red LED Wave (630nm) whitening pale spot, tender skin, and anti-wrinkle, repair damaged skin, smooth the fine wrinkles, shrink pores, hyperplasia of collagen.
Blue LED Wave (470nm) efficiently minimize and heal acne, repair the skin.
Purple LED Wave it is red and blue dual-band light, a combination of two kinds of pBeautifulotherapy effect, especially in healing and repairing the acne scar.
White LED Wave resolving age spots, improve fine lines and sagging skin.
Green LED Wave (520nm) Neutralization, balance skin condition, relieve mental stress and effective dredge lymphoid and edema
Yellow LED Wave (590nm) improve coarse skin and wrinkle redness, fever, ringworm of the skin, increase immunity
Green Blue LED Wave enhance the cell energy gradually, promote metabolism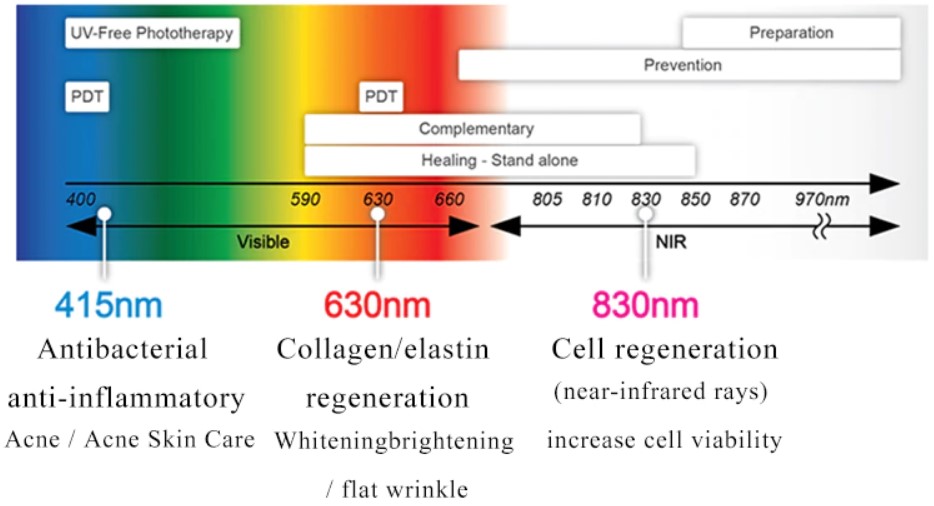 FDA recognizes safe and effective pBeautifulotherapy
This LED lights for facial care produces red and blue light of a specific wavelength, penetrates the surface area of your skin, reaches the subcutaneous fat layer, energizes capillary blood flow, boosts cellular reproduction, magnifies blood circulation, and produces rich collagen and elastin. Achieves anti-acne lightness, removes wrinkles, increases skin elasticity, and restores skin's vitality.